If you are reading this post, then home-baking sourdough is getting more serious for you. Here is what I learnt on the journey from home-baked yeast breads to baking and gifting, or at least sharing, home-baked sourdoughs.
I started with home-baked preferment yeast 1kg bread boules. Home-baked in a larger £4 charity shop ceramic casserole dish. I knew next to nothing about Dutch ovens, or bread cloches, dough quantities, dutch oven shapes or sizes. I moved onto various sized sourdoughs, proofing dough and bannetons*, home-baked in a second-hand, cast iron dutch ovens (ovals and rounds).
A banneton makes sure your sourdough is "supported" during the fermentation or proofing stage. It gently guides and shapes your dough as it rests prior to baking.
At this point, dough quantity, banneton and dutch oven shape and size started to matter. Finally, I now want to "bake two, gift one," where and whenever feasible. Which should be whenever I home bake because rustling up a larger dough batch is little no extra effort, very little ingredient cost and the same utilities costs – almost halving the costs of the loaves per 100g. However, baking two loaves has presented an unforeseen, or at least unplanned for, puzzle – which shape and size combination, two dutch ovens, fit our oven at the same time?
Here is what I have learnt on the journey so far.
Cast iron dutch ovens ensure the bread is heated evenly and a more consistent bake, where the bread can rise for longer and produce a crust that is thin and crispy and an interior that is open and aerated. The water (and acids) inside the dough evaporate and pushes the whole dough upwards and then trapped inside the dutch oven, helps keeps the outer crust of the bread soft as the dough inside rises to meet the exterior of the bread. Without the steam, the crust becomes hard too soon and doesn't allow the dough to form beneath it properly. Hence a tight fitting lid (steam and temperature) is a key element of the bake.
The right environment
A tight fitting cast iron dutch iron lid appears to be promoting a better baking environment than the looser ceramic lid. The side-by-side comparison shows that home bread baking in a Dutch oven (and preheating it first) is the key to making great looking, aerated bread.
I now spritz the loaf and dutch oven as I put the lid on and return it to the oven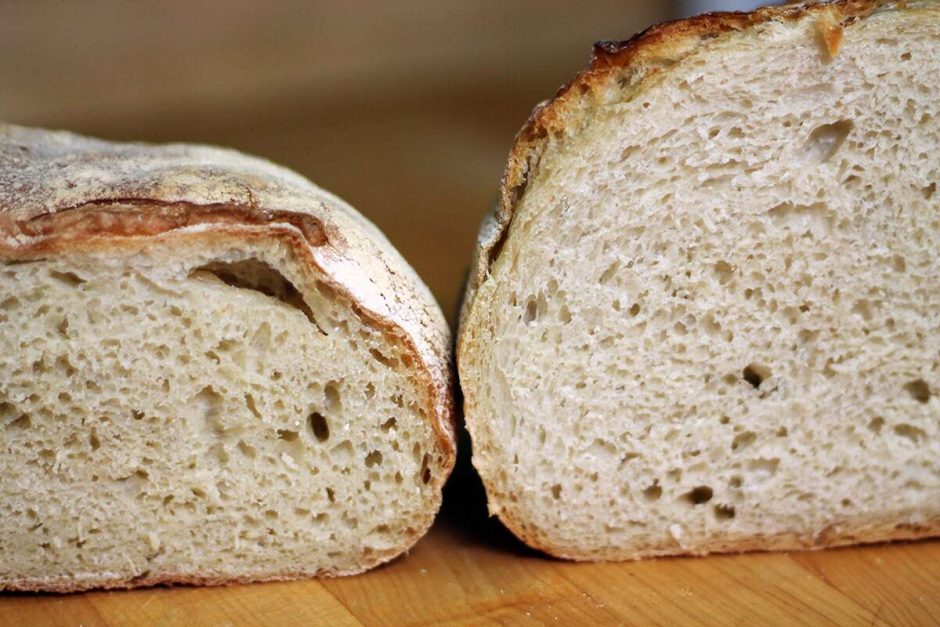 Size, shape and weight
Size, shape and weight matters – it is why I promote and prefer batards / oval shapes over rounds – better for slicing and toasting

Not only that, but do consider the ease with which you can get your dough in and out of the dish

Cast iron is more durable, more expensive and heavier (the weight does make handling the scolding hot larger dutch ovens trickier).
You need dough smaller the your proving baskets or bannetons, bannetons smaller than your Dutch ovens, Dutch ovens the appropriate size and shape for your loaves
Handles and lids matter – they need to be cast iron too and included in the dimensions / measurements and planning also
After pre-heating the dutch oven in the oven, semolina in the bottom of the dutch oven helps prevent the dough from sticking or burning the base
"Bake two, gift one"

If you want to "bake two, gift one," you need to plan ahead. My dutch ovens didn't fit side by side in our oven! #fail

Our 60cm x 60cm oven has a 47cm internal width
Currently I can only fit one medium round (two 22cm side by side are a little small) whereas I can fit a 4.7L and 3.5L oval side by side
Oval 3.5L – 29cm* (L) x 20cm (W) x 11cm (H) – with handle: 37cm* 8″ banneton, 388g flour, 257g water, 98g starter, 8g salt
Oval 4.7L – 38cm (L) x 24 cm (W) x 11cm (H) – with handle ?? 12″ banneton, 500g flour, 331g water, 126g starter, 10g salt

Large and small – 888g flour, 588g water, 18g salt, 224g starter
| | | | |
| --- | --- | --- | --- |
| Round | Dough weight | Oval | Dough weight |
| 8″ or 21cm | 700-800g | 10″ or 25.5cm | 650-800g |
| 10″ or 25.5cm | 900-1000g | 12″ or 30cm | 800-1000g |
| 12″ or 30.5cm | 1200-14000g | 14″ or 36cm | 1200-1400g |
On a budget – £4-£10
Enamelled coated cast iron – £20-£40
Classic cast iron – £40-£200
Bread cloche
Charity shop / preloved, sturdy ceramic or store "basic" lines
Low maintenance non stick
Requires regular seasoning
Check temperature
Check temperature limit
All temperatures
Check pre-heating limits
Enamel damage
Very long lasting and can be preheated
Of lightweight
Heavy
Heavy
£
£££
£££££