Late on Saturday afternoon, and a Barry Smith (@BarryNSmith79) retweet, with a Sam Strickland sub tweet, passed through my timeline.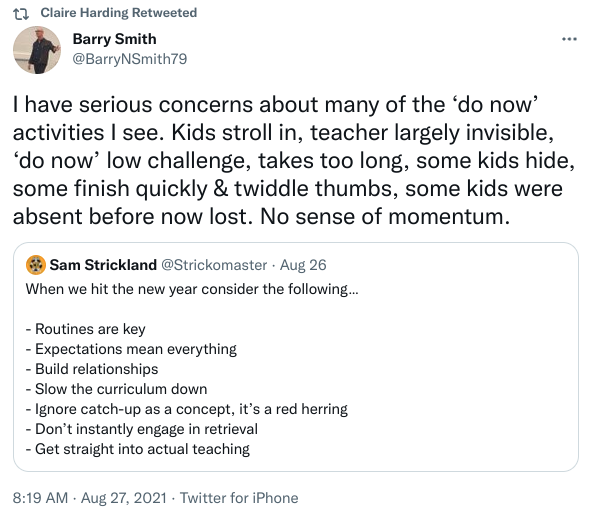 As with much of Twitter, it is a passing moment, so I tentatively asked Barry if he could elaborate. And that he very kindly did. First a DM reply, followed by a short audio recording. And then further discussion.
Remember, if I recall correctly, Barry's "why" is
I love to make kids confident – that's what I want.

Barry Smith #Morethanajob podcast
Here is what I learnt
Notwithstanding the context.
Truth is, we have to see school in action to be able to judge effectiveness of any strategy.

DM reply from Barry Smith
Issues for Do Now's to contend with
Those first few minutes of the lesson, pupils (not students – that comes later) arriving in dribs and drabs. Long routes to class. Corridors are poorly supervised. Pupils arrive, not in the right frame of mind. Pupils bring with them, all of their bad habits. Teachers have to recalibrate when pupils arrive.
Little to contend with there. One interesting point Barry raised, or at least highlights, is that the lesson starts, with how the previous lesson ends. Barry did say this – I am saying this. Teachers have a responsibility to how they send pupils onto their next lesson or activity. Barry articulated that he reminds pupils of their responsibility in moving between lessons, of corridor conduct. And I am assuming that you knew that already.
One of the very best football coaches I ever had the privilege to watch was former Clairefontainee coach Georges Prost. Every detail mattered. When passing the ball, he would ask, command, remind the players to"Present." The notion that players gift the ball to their team mate. Analogously, we gift our pupils to the next teacher.
Whatever your personal professional opinion of the debate, it has to be a consideration.
What is more, I gave further thought to the time between lessons. Teachers need time to transition too, to both prepare (get the lesson organisation) and ready themselves emotionally for the lesson. Teachers need time to re-calibrate.
And so to the nub of my interest in the conversation
There are a lot of crimes being committed in the name of retrieval practice at the moment.

Barry Smith #Morethanajob podcast
Quality of teaching
As I understood Barry's explanation, the "Do Now" is just one routine, of a small handful routines that have become habituated. Establishing teacher presence – ownership. 
Warm welcome
Coats, equipment, bags. (repeated)
Three pens, two pencils. 1 rulers. (repeated) (For me, a highlighter is a valuable tool for self and peer marking – however we are not in an agreement there.)
A fair proportion of Barry's effective lesson start is oracy based retrieval. "Chanted." Scanning the room, moving around and listening. "Very vigilant." Making sure pupils are not invisible.
I explain I don't want goldfish who silently open and close their mouths.

DM from Barry Smith
Repeated. Addressing high frequency errors. Revisit. Revisit. Revisit. In fact, Barry is particular to highlight, the decision to move to writing is critical. And I would have to agree, adding, a decision that is heavily influenced by who, when, where and what of teaching.
What Barry questions is the "Quality of starter – Do Now." The brain dump, the "unstructured," the "16 Words that related to deserts?" The Geography exemplar reminding him / us that not all subjects are equal and lesson spacing an important factor.
If you are keen to hear and explore more – Barry Smith talks to the #morethanajob podcast – or do as I did, and ask him directly. I have to say, he was very generous with his time.
My two cents
Below is the DM I penned to Barry.
Im for a simple, independent, Relearning tasks (where appropriate). So I'm interested in your breadth of observations.

DM to Barry Smith
The "Do Now" label – I believe has value in that it is directive. Are "Do Now's" a fail safe opening – no.
What and How pupils do now will always be contextual.
Oracy is often under-rated. Choral responses / chanting – I am willing to give it more thought. A linguists influence?
"Do Now" style tasks are not only for the start of the lesson.
You bake the cake. My recommended ingredients.
Routines yes. CBE / 321.
I would prefer independent, directed and focused, repeated, effortful retrieval / relearning. Even with choral, do we know who is loafing? Aim for high success rates. Feedback. Self assessed and corrected. Highlighted / corrected responses.
Relearning is very efficient. However, I would advocate that the "Do Now" is time referenced task.
The expectation is that the task is completed by all – hence a focus for those that complete ahead of the time reference.
The use of relearning or quizzing terminology – over testing.
"Repeated retrieval practice of the same information (with feedback) over multiple, spaced sessions," Higham et al., (2021).*
Dunlosky & Rawson, (2015). Practice tests, spaced practice, and successive relearning: Tips for classroom use and for guiding students' learning.. Scholarship of Teaching and Learning in Psychology. 1. 72-78. 10.1037/stl0000024.