For those of you who know about the development of RememberMore (RM) – this summer term (2021) marked a significant milestone for our edventure. It marked the availability of the RM app via the app stores to schools, educators and learners, extending and optimising the reach and impact of Successive Relearning and classroom.remembermore.app (CRM), ahead of the new term.
CRM currenly shares 1000s of categorised and tagged retrieval practice prompt pairs from across the curriculum, fast and flexible, open and free. It gives educators the ability to set a retrieval practice in less than 10 seconds. CRM remains open and we hope that educators will continue to see value in sharing their expertise and support for the platform.
But it is RememberMore that is at the heart of this endeavour. An adaptive system that uses Cognitive Science principles and research-informed learning strategies to deliver optimised Successive Relearning (SR). Learning
And so our development, collaboration and classroom practice continues to iterate and improve – with the support of educators the length and breadth of the country. Here is what the team shared.
Takeaway
The learning takeaway from Week 1 with RememberMore – learners adopt of the app was seemless. Further conversations revealed some need direct support to make the most of RememberMore. Mainly with setting the Review and the frequency and duration of use.
Signposting the "Challenge level" is important – it may need greater prominence within the app.
Management, Frequency and Duration
Frequency and duration is fast becoming the hot topic between the educators involved in the project. Of course RM is adaptive and optimises learning. The 'Challenge level' informs the learner but as noted, more might be required. Then there is optimising how often and how long? For now, our guidance is for "manageable and frequent" sessions (a collection of reviews) over unwieldy and infrequent.
Take a break? Limit a single session? – All settings we are discussing.
3 x 5 mins is better than 15. A 5 minute session still offers 8-10 Reviews or 80 cards or 80 targeted questions. There is no way you could ask the class that many questions. What is more, the spacing of the questions or cards handled by RememberMore.
In class, RM is adaptive and personalised. Peer conversation is redundant. Class was eerily silent.
What is the role or criterion based learning and or overlearning?
We are keen to compare overlearning of low and high prior attaining learners. How the theory of "success leads to motivation (confidence). That this motivation drives the search for more success," may contribute more in one setting than the other.
My year 9 class will be interesting for that – the American West content is such a struggle especially for the lower attaining learners – and the exam questions are all based on knowledge with no source-based questions at all.
More questions and more lines of enquiry
How big should a deck be? Previous conversations with Dr John Dunlosky have led to some informed forecasts, however we need more users to be able to make meaningful deductions.
Educating learners why RM works
The skill of the educator is in defining the deck (and size), designing the content and leading the learning. Part of that leadership includes outlining to learners why Successive Learning works and how RM makes use of the Cognitive Science. Based on what we learnt this week, we are currently adding to our explainer video directory.
One of the perks of RememberMore is its flexibility and "live editing." I find myself adding, editing, improving decks as I teach with it. It evolves over the first, even second cycle. This may be less pertinent where the substantive content is inert.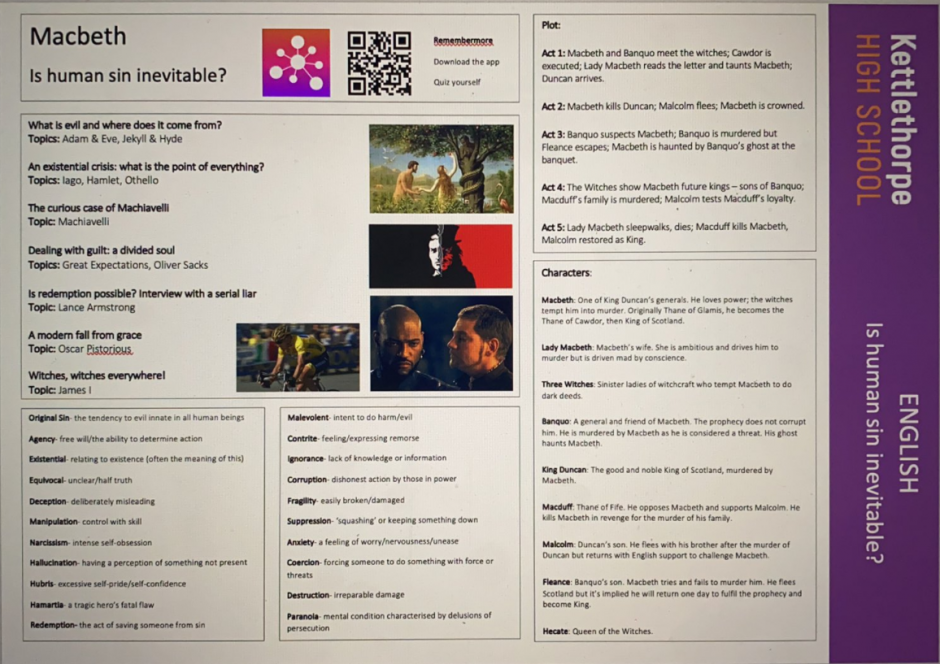 RememberMore being attach to a schools knowledge organisers (KO) – that we a very positive piece of feedback. Here, the content on the KO has been adapted to marry with the schools branded CRM.
Then finally, what was deemed a "random idea" is most certainly not. We are already looking at ways to tie in the RM Rewards with school recognition systems and share performance, progress and rewards with parents. Automatically delivering school postcards for learners is on the list.
What will week 2 reveal?