Open Spaces – Leading Learning #LL14 happened. That in itself was an achievement. I had never actually met Shaun Allison in person, when I proposed meeting to discuss leading learning and CPD in schools. Before we had agreed a date, a mutual friend, David Rogers, had joined the Twitter conversation and we were hosting a local CPD conference. Shaun mocked up a webpage, I proposed the Open Space format and David agreed to contribute whatever there was left to do. A very loose Leading Learning plan was hatched by a determined trio.
Both Shaun and David are great colleagues to work with, no slopey shoulders here. Whatever needed to be done, got done. Launch page, contacts, resources… whoever had the time to do it, did it. The antithesis of the 'everybody, somebody, anybody and no body' story.
The two preceding months before the event disappeared without a trace and before we knew we were meeting to finalise the plans in equity distant Chichester in the Easter break. Again, conversation was positive and collegiate – the agenda as yet defined only by the key question.
Middle and Senior from across the south coast, all with a responsibility for leading learning in their schools were signed-up. Come Friday morning we arrived at Durrington High School for an Open Space, Leading Learning conference. A conference without an agenda and therefore requiring a leap of faith. A leap of faith for Shaun and David too, who had only my word for it, that this was just the format we needed for this conference. On the plus side, there was no charge for the event and Shaun was putting on lunch. CPD for schools by schools – the right way in my humble opinion.
Open Space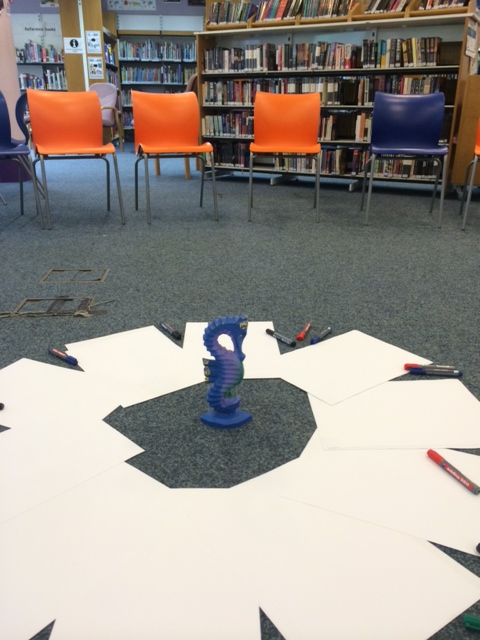 Using the 'Open Space' facilitation method (a learning experience in itself) the days agenda was defined by the delegates. We had approximately thirty-five key questions, that where then categorised into eleven topics.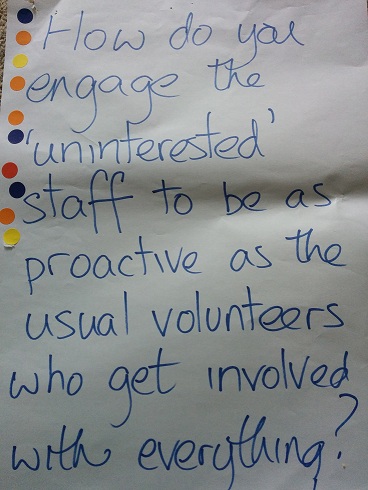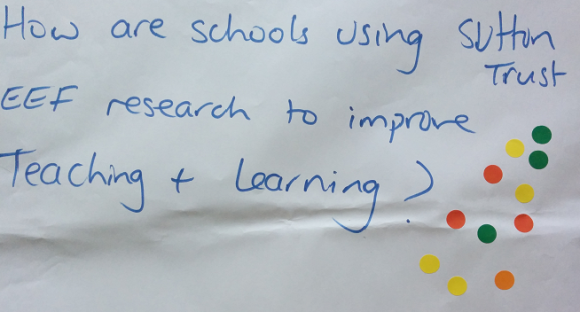 The eleven topics were narrowed down to seven through low tech sticky dots voting, with three topics in the morning session and four in the afternoon session. Proposed by the group, prioritised by the group, the delegates then participated in the conversations they wanted to participate in. Led by the delegate that wrote the original question, another colleague recorded the minutes and then we summarised and feedback to the whole group at the end of the morning and afternoon sessions. Simple, focused and purposeful.
Lesson Observations with or without grades?
Developmental vs judgmental
Assessment of teacher performance is much more than lesson observations
3 observations per cycle seemed common practice – from here the observation practice varied
Plan for and selected by staff / by line manager / by SLT or mixed eg (You chose, we chose, an observation from wk beginning 23rd)
Designated observation teams, SLT only, ASTs, Lead practitioners
What are we looking for when we observe?
Observations framework plus Teaching and Learning framework
Eg MICE (Marking, Independence, Challenge, Engagement) or FACQ (Feedback, Autonomy, Challenge, Questioning)
Learning Walks – windscreen wiper test – page 2 vs page 6 (Can you see a difference?)
Process of RI / inadequate
What is the process for outstanding lessons? Celebrate, conversation with the Principal.
How are staff being developed for Middle Leadership? How are Middle Leaders being developed?
Middle Leaders experiencing NPQSL. Open application.
Putting research in practice and excellent middle leadership. Whole school projects leading to success. Extending the influence of the most able staff throughout the school.
Delegates from NPQSL to lead middle leader meetings.
CPD breakfasts replacing staff briefing. Practical techniques. Remains in staffroom. Teaching and Learning blog – repository of resources. RnD groups – assigned delegates from departments. Key themes.
Delegates expected to present findings at Department meetings.
Department reviews – Ofsted style – with departments requiring improvement expected to follow an action plan. Pairing up of high performing departments with RI departments.
Senior Heads of Curriculum guides – an extended description of leadership expectations
External reviews
Training for new subject / curriculum leaders – requires a formal schedule and training development. Using the interview notes to set the first training priorities.
Pedagogical audit
Teaching School Alliance – making better use of the wider teaching community within an alliance. Cross school middle leader meetings
Coaching for all teachers. Teaching triads. Timetabled meetings – once per term. External coaches or develop your own coaches. A core group with accredited training.
Middle Leader Development
Use aptitude interview activities to determine CPD programme. A better, more formalised assessment day, to plan the training. Come back to interview pledges after appointment. Transfer to CPD notes. Induction process – guide / checklist eg running meetings, difficult conversations, shadowing successful leaders, expectations of middle leaders in line meetings, data, reporting, line management, observations, responding to a compliant letter, investigating a compliant, PRP conversations, writing an area development plan.
Summer Dept away day to another school.
Developing a Growth Mindset
Model from SLT, discussed and understood by SLT, reflective leaders,
Highlight and emphasis vocabulary, deliberate practice, running through the school like a 'stick of rock.'
Slow burner. Drip feed daily. Building on experiences.
Clear in feedback policy.
Engagement
Everything is teaching and learning. Look for and celebrate good practice.
Involve those not interested.
Not overly proscriptive – outcomes count.
Develop a menu system – (possibly generated through an open space)
Little and often, a range of activities, different times of the day.
Coaching needs time. Personal invitations and not just whole school communications.
Trust staff as professionals, target those who are not.
Structuring INSET and CPD
Audit staff and team leaders to identify common areas for development. Differentiate strands. Review personal needs.
Encourage expert staff to run workshops and make sure you credit their sessions and share the feedback forms
TLCs / Lesson Study groups / IRIS
Term or year programmes – coaching partnerships, teaching triads
Promote active reading
Encourage learning walks, share the positives from learning walks (take pictures of good practice), feedback
Focused learning walks – this week I will be looking at "____________________."
How are schools approaching assessment without levels?
Concerns – a lack of hierarchy in the NEW National Curriculum leaves school unsure how to level the curriculum components
How will the NEW KS3 curriculum map to the new GCSE?
How with the KS3 grades map to the 1-9 GCSE grades?
How will this impact on reporting to parents and monitoring progress?
To what extent should we let our staff invest time and effort into this process vs the outcome and impact on student learning.
Advice to staff is to be familiar with PoS and to start devising their own hierarchies.
Would we do it again?
Yes. Without a doubt. Not only were the conversations and resource exchanges of value almost every delegate left with a contact with home they were planning to extend their conversation and collaboration. I certainly look forward to Paul Cox's visit in July.
Paul Blake (@academictrust) and I have even talked about offering an Open Space 'Leading Learning' Conference at The Wellington Academy for Hampshire / Wiltshire / London and SW schools in term 6. Interested? Drop me a line.
#LL14 Post your resources here http://www.dropitto.me/kristianstill and I will share the folder. The SHoC Guide is already there for you.
Password – *p**ad
Shared folder link here.
Thanks to Shaun, David, the delegates and to Sally, DHS librarian, who shared some fantastic literacy resources. If you want to know more, or appreciate a delegates perspective here is Shaun's. (Never one to miss an opportunity to talk libraries).
[qr_code_display]
Attendance List
Shaun Allison

, Durrington High School

Kristian Still

, The Wellington Academy

David Rogers

, Patcham High School

Steve Kelly

, Educational consultant

Kay Tinsley,

Hastings & St Leonards Academy

Victoria Purcell

, St Andrews High School
Carole McIver-Wren, The Tideway School

Paul Cox

, Worthing Sixth Form College

Chris Francis

– S

t Peters School

Hayley Hill, The Shoreham Academy

Lianne Allison

, The Angmering School
Yvonne Watkins, Bourne Community College
Clare Dignum, Richmond College

Jo Gessey

, The Regis School

Mel walton

, The Regis School

Alex Battison

, Hurstpierpoint College
Gemma Edgcombe, Peacehaven Community School
Sean McMorrow, The Angmering School
Phil Lewis, St Andrews High School
Carly Young, Robertsbridge Community College
Caroline Lowing, Harrow Way Community School
Janet Tremble – Oakmeeds Community College
Helen Leaney – Oakmeeds Community College
Mark Poston, Sir Robert Woodard Academy
Michelle Kelly, Felpham Community College
Paul Blake, The Wellington Academy
Richard Shakespeare, Davison High School for Girls
Tom Flower, Worthing High School