I am not keen to get into an aims, outcomes or objectives debate. I am not sure that I am too bothered which staff use, as long as the learning is framed, signposted or explored in some way and the students are engaged, challenged, inspired and directed. What you can be sure of is, is that conscientious teachers up and down the country are sweating the aims, outcomes or objectives debate and supportive colleagues are sharing their tried and tested methods in support, me included. Last year I crowd sources and shared 51 ways to introduce learning objectives and here I am again exploring this pillar of pedagogy.
With an idea gleaned from my previous office-mate, Jon Beck (and the teaching and learning staff at Horndean Technology College), a Bloom's verb list donated by my former Director of Learning for ICT (Amir Fakhoury), input and rock face feedback from our NQT teachers group at The Wellington Academy and graphic design by Andrea Barrett, we have Version 3 of 'Using Learning Objectives.' And still it is not yet finished.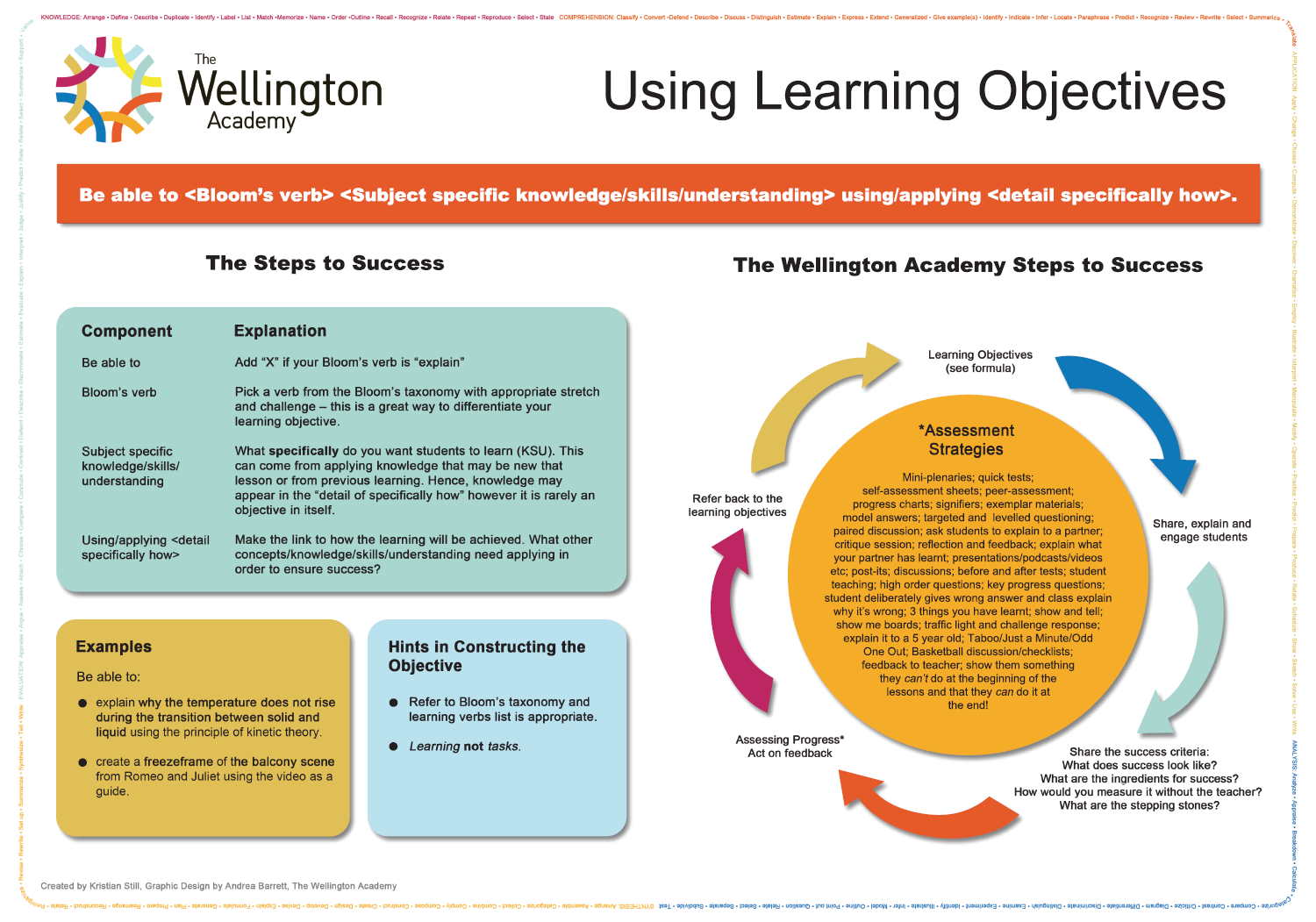 A little reading this week has highlighted a few necessary corrections. In the 'Steps to Success' section, 'assessing progress' should really read 'assessing learning.' If you are not convinced after reading Kev Bartle's 'The myth of progress within lessons' then by all means leave it as 'progress.' 'Hints in Constructing the Objective' should reference the verb list around the perimeter of the poster (Kate Schofield's idea), I may even remove a few verbs and increase the font size. Finally, there might be one or two more contrasting 'Assessment Strategies' examples, if there are, let me know. Feedback from a few critical friends has been positive, so here it is (complete we requested changes). If you really want the original PSD file to customise for your school brand, let me know.
Aims, outcomes, objectives… I am not too concerned. What I am most concerned about is 'HOW' the learning objective will be achieved. The final section of the rubric begins with 'using' and implies the 'HOW' the learning objective will be achieved.
In road testing this rubric, this final section has been the most thought provoking and also carried the most impact on the learning in lessons. The HOW has brought about real debate. Using 'the principle of kinetic theory' or using 'the video as a guide' proved to be essential guidance. Professional feedback welcomed; certainly our meetings where not without debate and robust commentary, I assure you. This fundamental construct proving a real catalyst for discussion.
[qr_code_display]