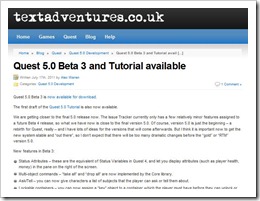 I continue to explore interactive fiction and continue to work through the Aaron Reed's fantastic Creating Interactive Fiction with Inform 7 book. I find the reading / doing approach very effective and I am really considering this approach for when I finally introduce this writing style.
I have spoken to Edexcel's very receptive Gareth Bryne and plan to discuss IF with the other exam boards over the summer holidays. I must say, finding the appropriate person to speak to is a mission in itself. Finally I have tweeted the only other UK practitioner I know exploring and blogging about his experiences with  IF and Year 7 students @chrisleach78. Chris was recommended by Alex Warren (@alexwarren), creator and developer of Quest 5 (Beta 3), with whom I spoke with on Friday.
Alex has decided to step away from 9-5 in pursuit of developing his passion, Quest 5. Moving into the Open Source arena Alex aims to develop not just the software but the community with the foresight earning a living providing 'services that fit around Quest 5' Well, I for one am convinced that his aspirations are achievable and that education is one area that Quest 5 can explore.
Training (Network set-up and more important teacher training)
School Awards and Events – adding a little gamification to the process.
Student IF / TBA competitions – which reminds me, IMHO, IF sounds more exciting than TBA – Text Based Adventures
Student writing camps
Father and son, Dads and Lads events
Of course, once the first layer is in place, the intermediate and advanced layers kick in. Understandably, Alex has his developer eye on custom developments and code but I hope that I will be able to share a few practitioner ideas to complement that. Alex tells me that Quest 5 is pretty resilient and he is in the process of drafting Quest 5.0 Tutorials. So there are absolutely no barriers to you dipping you toe in the IF world. So I am off to download Quest 5 (Beta 3), and get stuck in, over the summer holidays, why don't you join me and get it a try? I know Alex would really appreciate your feedback.