This Tuesday, I shared my enthusiasm for home-baked sourdough with five workshop guests at the Seahorses Bistro.
Planning the workshop took a good few weeks, visiting the venue, planning the workshop schedule, after which it was trialled and refined on a few willing friends. Next I drafted a modest eight page booklet (it features in one of the images below) to support the attendees during, and after the workshop, updating with insights from the delivery of course. And since, with answers to the questions shared in the "WhatsApp group."
The Seahorse bistro made for a fantastic venue, the proprietor was such a professional host and our attendees so warm and receptive – it was a great experience for us all.
And now we have our first review:
The sourdough starter course I attended was a delightful experience. Kristian, the instructor was highly informative and knowledgeable about the subject matter, providing valuable insights and guidance throughout the course. The Bistro, owned and run by Sam was lovely, creating a pleasant and conducive learning environment. The small group of students (x5) fostered a friendly and interactive atmosphere, allowing for meaningful discussions and shared experiences. Which is continuing on a WhatsApp group set up by Sam and Kristian. It's great not to feel alone once the class ended!

Overall, the course was well-structured and provided a comprehensive understanding of sourdough starter techniques. I would highly recommend it to anyone interested in learning the art of sourdough baking.
Here is the best endorsement. Following the course, attendees have been sharing their sourdough successes! I was very proud of their achievements.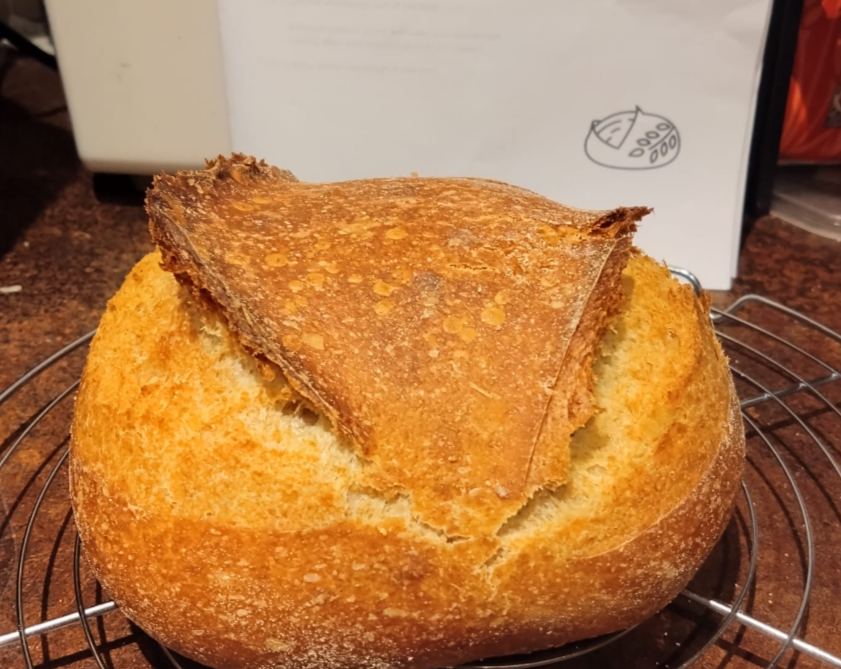 Interested in joining us? Visit the Seahorse Bistro workshops page to book onto a "Get Started" workshop.
Alternatively, you could host a "Get started" home-baked sourdough workshop in your own kitchen? That is, me coming to your kitchen. Maybe a dinner party, becomes a sourdough dinner party? A works team building event? Maybe a family event? I am open to suggestions. Drop me an email.
LEARN
how three simple ingredients (flour, water and salt) combine to make amazingly nutritious and delicious home-baked sourdough
about the nutritional benefits of fermentation used in sourdough
how to grow, look after, store and troubleshoot your sourdough starter
how to mix sourdough
different ways to prove and bake your sourdough
Your attendees need:
A sterilised "starter" jar with lid (straight-sided / wide-mouthed – recommended), a medium – large mixing bowl, mixing tool: wooden spoon, chopstick or spurtle, a clean tea towel to cover your dough (or a plastic shower cap)
I provide all the ingredients, digital kitchen scales and dough scrapers.
Drop me an email.