This way…
Retrieval practice as a teaching and learning strategy swiftly replaced "the testing effect." From what I witnessed, retrieval practice was initially positioned as a revision strategy, it is now a prevalent teaching, and learning, strategy. I say "now," that evolution has taken more than ten years.
"The benefit of retrieval practice is one of the most robust findings in cognitive psychology."

Roediger & Karpicke, (2006) and Storm, Bjork & Storm (2010).
Distribution, spacing or scheduling and interleaving, were quick to follow.
With a growing commitment from educators to retrieval practice the work of Katherine Rawson stands out. A determined voice, to move the focus on single learning conditions to successive relearning (away from the laboratory) in classrooms. To practicing to some level of mastery in multiple learning sessions.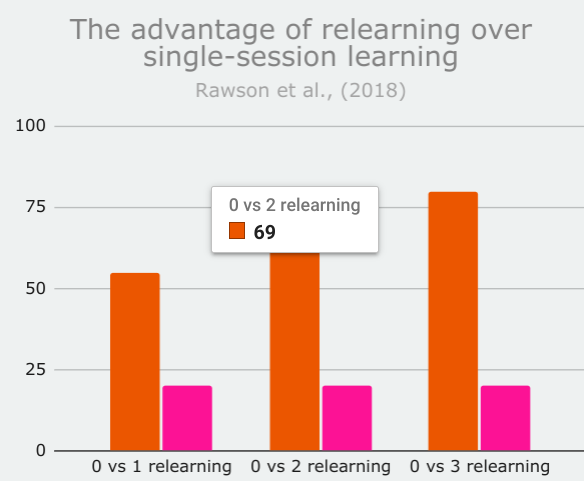 The advantage of successive relearning over single-session learning (i.e., relearning potency) was substantial. 50, 70, 80 markers for relearning, once, twice and thrice times, are useful if approximate. Notably, longer lasting retention or durability, 1 week, and 3 weeks later, was reported.
For the past eight months, since the start of the new academic year, I have been investigating and investing in applying these findings in class and by making RememberMore available to learners beyond. RememberMore applies a mastery based, confidence based assessment algorithm, to optimise learning.
With this evidence, I encourage teachers to employ retrieval and edge towards successive relearning.
Highlights this week take their steer from Steven Spence @s_spence10 who asked me to reflect on "How engaging in research has benefited you and why you recommend others to actively engage in any form of research."
I hope I have developed as educator and evaluator of research. I believe I am better informed and more discerning. Ultimately, my students are more confident learners and their outcomes reflect this.

Actively engaging in research has led to new professional conversations, in my case, conversations with Cognitive Science researchers, applied education psychologists, others educators and ending with this #FEresearchmeet event.

Presentation to #FEresearchmeet
Then there were feedback comments from busy teachers (I was one of them) and reviews on RememberMore, one key conversation with a learner from one of my classes, and a stunning, witnessed, recall performance in CAP (our Alternative Provision).
Feedback and Reviews
"Flitting about everywhere today – orchestrating Anti Bullying training and Year 11 assessments as well as teaching KS3. RememberMore invaluable in these situations!"

@MrClassics3
Easy to use and understand, after using it for 30 minutes I was put to the test in answering the questions I was learning on the app and I have never answered them so quick before. It really has found a way to get that knowledge into my brain.
A conversation with one of learners opened with, "Sir – now I am hour or so in, can you show me how to change the Challenge level?" So I added the points of our conversation to the 'Making the most of RememberMore' app page. If you are using the app – I have added a marker on my calendar in the summer to design the video.
Finally, one standout performance. Two weeks into term, we have been reading, quizzing, discussing our text. We set a 10 questions quiz from 121 cards. We expected 5/10 (it is important to forecast performance.) When we got to 6/6, we were stunned and we could feel the pressure build. 8/8… faltered on question 9, ended with 9/10. I was stunned, my teaching colleague was stunned and the learners was… a mix of stunned and proud(?). At least I hope he was. Hat tip MA (this is for you).
Roediger, H. L. and Karpicke, J. D. (2006) 'Test-Enhanced Learning: Taking Memory Tests Improves Long-Term Retention', Psychological Science, 17(3), pp. 249–255. doi: 10.1111/j.1467-9280.2006.01693.x.
Storm, B.C., Bjork, R.A. & Storm, J.C. Optimizing retrieval as a learning event: When and why expanding retrieval practice enhances long-term retention. Memory & Cognition 38, 244–253 (2010). https://doi.org/10.3758/MC.38.2.244