Greg Henderson # peaceofmind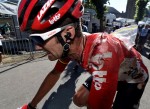 I have been in awe of the Tour de France (Tour de Force) ever since I read Lance Armstrong's autobiography. It's Not About the Bike became the pre, pre-season reading for our college footballers (SIUE) leaving them little excuse to complain during our own double season pre-season, cold at the track in the morning, sweltering in the late afternoon Illinois heat. I continue to read about the pain junkies and their training programmes, and follow the larger tour races.
A few days back I read about a high speed crash at the TDF which lead to six riders retiring. The following day I read about how kiwi cyclist Greg Henderson completed the third stage with a broken rib and a hip wound needed stitching after the race.
Henderson battled to finish the 159.5km stage from Antwerp to the infamous Mur de Huy in Belgium, 14 minutes and 13 seconds behind winner Joaquim Rodriguez and ahead only of Australian Michael Matthews. I respected and recognised a sense of "determination to finish" as opposed to the "determination to win." I went onto to read that Henderson was delaying his decision to retire from the race and whether or not to attempt the 223km fourth stage. Incidentally a stage that includes seven gruelling cobblestone sections, wretched if attempted with a broken rib. What was even more inspiring was his reasoning for considering this masochistic endeavour, shared via Twitter…
I will attempt to start today. Not ideal but the reason I try is in case I don't make it… I can't say I never tried. #peaceofmind Greg Henderson
Yesterday I woke  up with sore throat and felt a little aching. I really didn't have a suitable excuse not to come into work. One of a future assembly on attendance no doubt. An assembly I anticipate @chrishildrew might borrow.