Bridging the gap between research and practice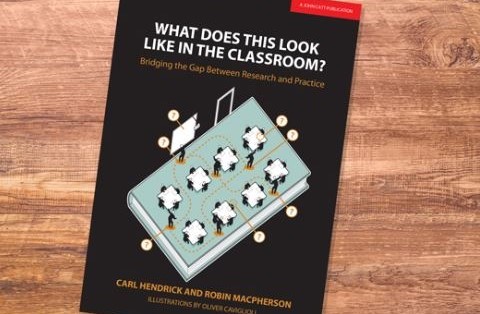 Every year thousands of research papers on teaching are published, some of which contradict each other. How can busy teachers know which research is worth investing time in reading and understanding? And how easily is that research translated into excellent practice in the classroom?
What Does This Look Like In The Classroom? Bridging the gap between research and practice
That is the question Carl Hendrick and Robin Macpherson pose and attempt to offer a steep on.
Ten chapters, introduced by the authors and then experts from the field answer questions on practice. Both the Chartered College and Durrington Research School offer reviews, plus an interview with Carl.
As we move closer to GCSE results and the subsequent Performance Reviews, I will highlight
Now I recognise that observing learning in the classroom is devilishly hard and that the best job I can do is to spot learning proxies occurring over time. – Alex Quigley
Second, I found to conversation on the Catch-22 nature of achievement and motivation interesting.The research reviewed shows that the effect of achievement on self concept is stronger that the effect of self-concept on achievement – Muijus and Reynolds. More recently I read
Over time, these ideas can influence our perception of who we are as learners. Our academic identities influence our achievements, whilst at the same time being a product of our achievements (Marsh & Craven, 2006).
Lastly, on classroom talk and questioning, I noted Lemov's support of writing  Or at least recording one's thoughts, to preceed a discussion, preparing students to be in a position contribute when called upon and second to be clear about the "means of participation."  I view this approach routined approach as a feature or strength of 'Cultures of Thinking.'
One other magpied tip – to pause a whole-class, group or paired discussion activity, then instruct one group or pair to continue, as a focused "hot-seated" conversation.
A worthwhile read, highly recommended via Amazon.