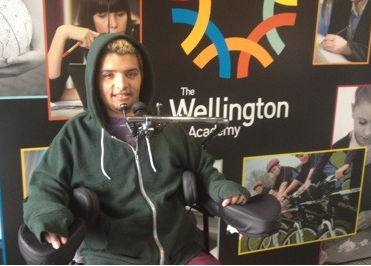 This Friday's Year 11 'Drive to the finish line' assembly was led by an inspirational young man, former elite gymnast and aspiring stuntman, Jay Young.
Just two years on, and following eleven months of gruelling physiotherapy, Jay is commanding the respect and attention of our Year 11 students. Not a whisper could be heard in the theatre as Jay retold the events of his tragic accident and challenges of living life as a quadriplegic.
To be active like that all day every day for as long as you can remember and to suddenly have that taken away in a split second is difficult. –  Jay told our Year 11 students.
Jay broke his neck during a routine dress rehearsal at Legoland, Windsor back in March 2011. And whilst he himself is still adjusting to life as quadriplegic, he sees the value in sharing his daily challenges and experiences. His modesty and openness was powerful, humbling, and over whelmingly inspiring. Jay' simple message – pursue your dreams with conviction and do not take for grant the simple things in life; a hug, scratching one's own nose, sending your own text messages and removing an annoying eyelash. No pyrotechnics, special effects, not even a whizzy Powerpoint deck, just hard reality, facts and a drive to live life to the max.
Both staff and students left the assembly re-evaluating their own goals, inner strength and values. Truly humbling, truly inspiring. We hope to being Jay back to The Academy soon to contribute to our Humanutopia programme running this year.
Jay is keen to access a wider audience and work with as many young people as possible, schools and youth organisations in particular. If you are a teacher or school leader and would like to bring Jay to your school, drop me a note and I will put you in touch.
[qr_code_display]