kristianstill.co.uk has had to take a back seat lately with the lions share of my spare time invested in www.remembermore.app (RM) and it's fast and flexible co-pilot https://classroom.remembermore.app/ (CRM). Unsurprisingly this post is connected and charts five days exploring the faster retrieval routines.
Monday: From introducing RememberMore, to the "Fast Approach" we moved to "Fast Ten." Learners are now familiar with the routine and have moved from learning new substantive content to regularly retrieving it. It felt like the right time to introduce or road test "Fast 10" (an arbitrary value). Whole class, accelerated retrieval practice. Ten questions on the board. 1 minute countdown. Learners reading and thinking of the response. The educator clicks for each answer prompt every six seconds. Learners keep a record of their score on their fingers as they so (hence the decision for 10 question prompt). I gathered feedback from the class, more than 5… more than 6… You judge the level of feedback you want. With those that put their hands do early more than once, I visited them to see what it was that were finding difficult. A common issue – the shorter, vocabulary definitions which I share these via Google Classroom.
Ups and Downs: On the upside, there is a good deal more retrieval. On the down side, no formal record other than the self-assigned scores.
On Tuesday's I teach a much smaller group. Whilst we "played" "Fast 10" they very quickly want to compete against one another and this very quickly evolved into a new game – "Fastest 10." A game who instructions evolved over the three remaining days. And it would appear, this is a highly motivating version of original "game" or routine.
After a few Fast 10 rounds, I shared the fact that had we played a solo version of Fast 10, the so-called – Fastest 10.
As before, after setting the categories, tags and countdown timer (1 min), a learner stepped into the hotspot, the others played and practiced – ready for their turn. Rules were conceived as we played.
The learner verbally report their responses. "Pass" is used to "pass" on a prompt. Learners can return to any "passed questions" within the 60s. Typically I ask the learners to countdown, "3-2-1 begin," to confirm their readiness and add a bit of drama.
The educator clicks reveal to acknowledge response. Correct answers are calculated. Scores or correct responses trump time. That gave us a leader board and that completely changed the atmosphere in the room.
Thursday: Of course CRM is open and available and what happened next was simply brilliant. Students started posted their scores, within and between classes.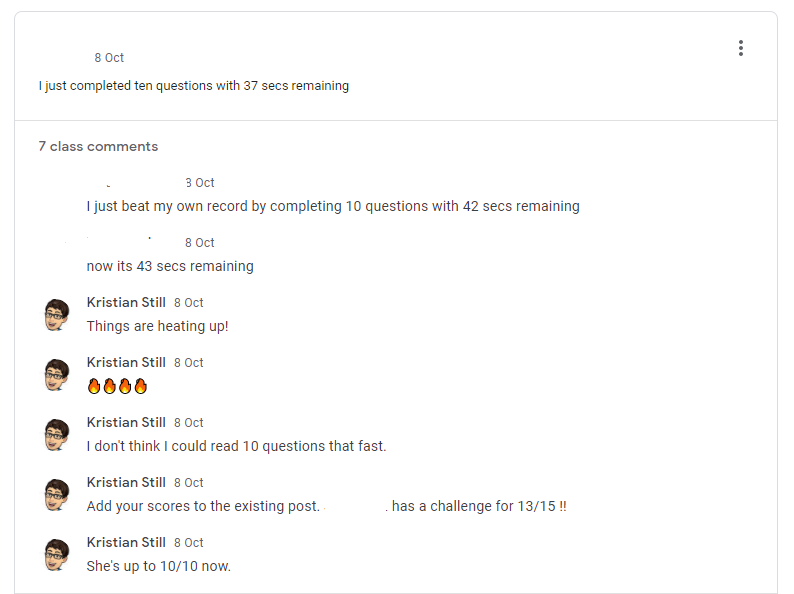 From there – more guidelines from the students who were seeking fairness.
Fastest 10 now has 'Levels' defined by the deck size and the number of questions to answer. This also means students can compete across decks.
Deck size: 100, 200 or 300+. Number of questions: 3, 10 or 15 (borrowed from the Rubix Cube Championships). 
Leader board and tie-breakers: Correct responses trumpeting time remained, but as times tumbled, students started to report "spare seconds" which I thought was an interesting term and kept it.
Competition was a motivator for these students and times continues to improve. Especially when they hear the times of perceived competitors.
Times continue to tumbling and now students are reporting sub 20s times with a good number of these reports verified! Students now vying for sub 15 second times! Students are now reporting that they are now "in training" and practising! Some have even conceived further training methods – I can not wait to release the remembermore.app
Ups and Downs: On the Upside – this appears to have captured their attention (spelling-bee style). Lots more reading – as well as answering and more engagement in vocabulary. Downside: Of course, all learners can participate, however only one learner can be in the hot seat at any one time. However, with times tumbling… this is less of a concern that when students were taking the full sixty seconds.
Highly invested learners, posting faster and faster times can raise the bar beyond grasp. So we have set bands of recognition. Awards for entering, then an Award for 10 correct responses in 60s, Bronze Award (10 correct with 20s spare), Silver Award (10 correct with 30s spare), Gold Award (10 correct with 40s spare), Platinum Award (10 correct with 45s spare) and finally the TOP 5 on the leaderboard. 
Updates to follow for 200, 300 deck times and 3 and 15 question times.
It is Friday night and scores are being posted.