#WTD18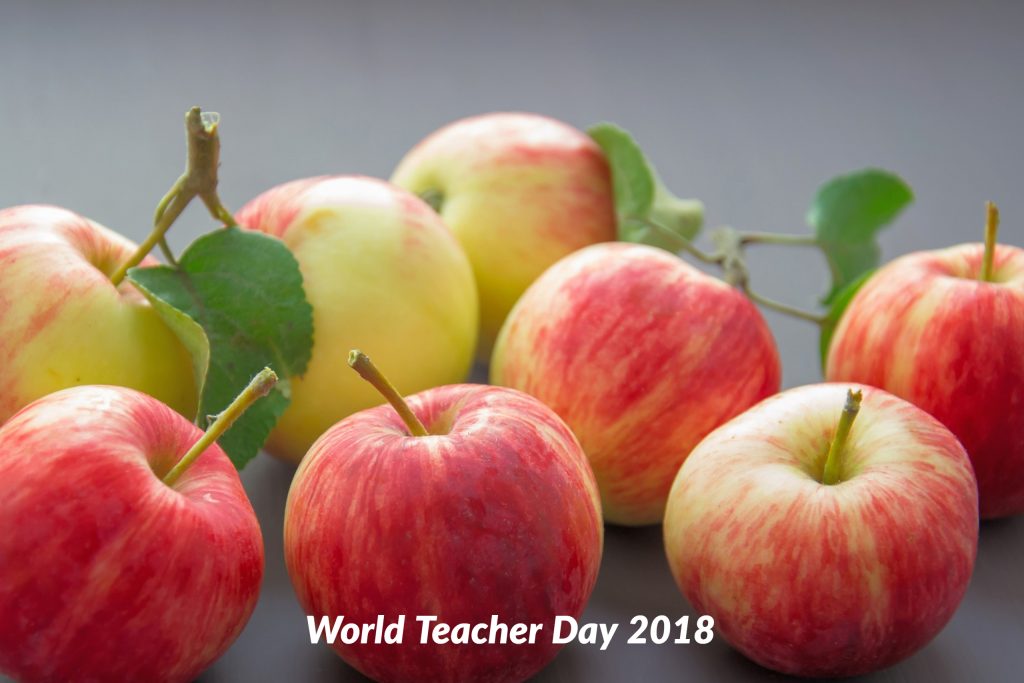 World Teacher Day (#WTD18) 5th October 2018 is particularly important this year as it marks the 70th anniversary of the Universal Declaration of Human Rights (1948) that recognises education as a key fundamental right and establishes an entitlement to free compulsory education, ensuring inclusive and equitable access for all children. Of course, that aim requires qualified teachers, and to fill the ever growing global 'teacher gap' UNESCO estimate with need to recruit almost 69 million new teachers to meet their targets for 2030. I propose, we contribute by making a little more effort to retain those we currently have.
Whilst you will be aware that staff recognition improves retention, productivity, teamwork and reduces absenteeism, thus improving outcomes for students and reducing organisational costs – what you may not realise is the personal benefit contributing to #WTD18 will have on you. Furthermore, what better way to teach respect and gratitude than to demonstrate it? What better way to teach commitment than to recognise it in the teachers teaching our schools?
Join me in celebrating World Teacher Day
This year, I am better prepared, prepared earlier and in a position to share these plans, resources and a few creative ways to say "thank you" than last year. The 5th October is a Friday, a Yayday! Four weeks into the new term, further on in, in other countries, students and staff have settled, routines have been established, it is a good time to build good will into the system. You may already have you own plans in place for celebrating #WTD18, however if not, feel free to borrow and share these resources and ideas below.
Alternatively, you may wish to recognise your staff as befits your school and your context. Not matter which you choose, but do act.
2018 plans are largely based on last years plans and motivated by last years feedback. Last year I ask that our Regional Principal shared a message of thanks with our staff and we shared the opportunity for students and parents to write postcard messages to their teachers. These were displayed for their arrival the morning of World Teacher Day. We shared a 80g smile-bar of chocolate via pigeon holes (four for a £1), provided buns and break and raffled three well-being envelops (vouchers).
Accessible via the folder above is a "fast track plan," for you to follow, or pass onto to a #WTD lead, postcard template and a handful #WTD18 designs for you to use and personalise. These will run onto card, through your photocopier and therefore inexpensive, as you know, it is the handwritten comments that matter.
Here is what I learnt
Postcards with a sentence starter included as part of the design, supports and steers the written messages. "I just wanted to tell you…"
Younger students quite often wanted to sign one anothers messages for staff – when asked to read peer messages.
Some students need support writing their comments – some of these simple messages where the most powerful.
Handwritten messages from students matter to staff. From their peers and line managers too. Thank you Anthony Seldon – I still have your note.
Common message themes have taught me what matters to our students and our parents: warm welcomes, positive handling of discrete issues, particular school events (sports and visits in particular), favourite units of work, teachers recognising students' effort. – sharing and displaying these messages reinforced these positive actions for our staff, a self-fulfilling cycle of sorts. These insights alone were worth the investment.
We accepted all messages, we did not define "teacher" from any other member of staff or volunteer because our students do not necessarily define "teacher" as we do.
Primary staff received more postcards overall, receiving them from current and former students. Secondary teachers tended to receive messages from current students or students they held to account. Leadership staff received fewer messages. (I did, and will again, write a message to each of them.) Some cards are written for former staff – we always send these on.
If I am honest, a few staff are left disappointed by the number of messages they receive. You need to consider the unintended impact of teacher postcards too.
We left the messages on display for two weeks. It was a positive reminder to our school about what matters to us.
Benefits to those that take action
Jack Welch told us that people have a radio station playing in their heads. W.I.I.F.M. You may want to know "What's In It For Me?" In addition to learning what really matters to your students and parents, you get to witness students reminiscing and recalling their favourite teacher accounts. Sometimes agreeing, nodding and laughing, sometimes surprised, sometimes feigning confusion at the chosen teacher selection. You get to feel the build up to Oct 5th. You get to read the messages, and get to witness staff and students reading them.
Thank you for promoting this day within the school. It was a great feeling reading the cards that the students had written for the teachers, and I really value their comments and your effort in organising the display.

Also, while winning the vouchers was a much appreciated bonus, the day gave me lots of the good stuff that money doesn't buy. Cheers!

Thank you for your support.
You get to feel the palatable uplift and know it was because you watered the roots of World Teacher Day. Of course, should you have any other creative ideas, do share them with me, I'd love to know what you are planning. Otherwise, encourages as many schools as you can to recognise their teachers.
Creative thank-you.
Postcards, smile-bar, well-being raffle, buns at break. For newly qualified staff, design a "survival kit." For new staff, attach speech bubbles post-it notes to their whiteboard with positive comments regarding their first four weeks. Tell a colleague what a fantastic "thing" teacher X did for you this week. More often than not, it gets back to them. Inscribe a book. For a real life-saver, a packet of polos with a note saying "you are a life-saver." Gift anything comfort item that you know "their favourite," it shows you noticed.